Super Sexy Supper Recipes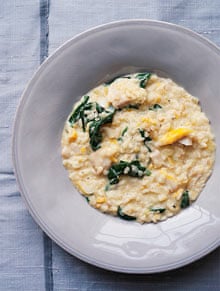 Smoked Haddock Risotto with spinach
Serves 2 or to feed more hungry folks just increase your quantities.
milk 450ml
Smoked Haddock 400g
bay leaves 2
black peppercorns 6
fish or vegetable stock 450ml
onion 1, small
butter 50g
Arborio or other risotto rice 250g
white wine 1 glass
butter a little knob to finish
spinach leaves 2 handfuls
Pour the milk into a saucepan large enough to take the fish. Place the fish in the milk, add the bay leaves and peppercorns, then bring to the boil. As soon as the milk shows signs of foaming, lower the heat and simmer for 8-10 minutes or until the fish is just tender. Turn off the heat and leave the milk to infuse with the fish and aromatics.
Gently heat the fish or vegetable stock in a saucepan. Peel and finely chop the onion, then fry gently in the butter in a heavy-bottomed pan. When the onion is soft and translucent, but before it colours, add the rice and briefly stir it through the butter to coat the grains. Pour in the wine, let it almost entirely evaporate, then add the stock a ladle at a time, allowing each one to be soaked up by the rice before adding the next. A perfect time to flake your haddock into biggish juicy pieces, look out for any bones.
Once all the stock has gone, change to the milk, strained of its peppercorns and bay leaves. By the time almost all the liquid is absorbed the grains should be tender and plump yet with a slight bite to them. Sir in your knob of butter slice of butter and season. The total cooking time will be about 20 minutes, maybe a few minutes longer.
Wash the spinach leaves and then stir them into the rice. Gently combine your flaked smoked haddock into your risotto.  Season with cracked black pepper and serve pronto presto.
isle of ewe Smoked Salmon Sharing Platter with Salsa Verde
1x 2oog pack Cold Smoked Salmon sliced or unsliced it you like to be the slicing supremo
1x 200g pack Hot Smoked Salmon
1x 125 g pot of Hot & Cold Smoked Salmon
Salsa Verde
This cheeky little sauce  adds a summery zing to even the wildest winters day. Any you don't use now will happily love being in your fridge in a jar for a few days. Great with any grilled fish, chicken or roasted vegetables.  I love it with oven roasted hake fillet, cooked hot & fast, a la James Bond.
1½-2 cloves garlic , peeled
1 small handful capers
1 small handful gherkins pickled in sweet vinegar
6 anchovy fillets love the Ortiz brand super yummy
2 large handfuls flat-leaf parsley , leaves picked
1 bunch fresh basil , leaves picked
1 handful fresh mint , leaves picked
1 tablespoon Dijon mustard
3 tablespoons red wine vinegar
8 tablespoons really good extra virgin olive oil
sea salt
freshly ground black pepper
Finely chop the garlic, capers, gherkins, anchovies and herbs and pu
t them into a bowl. Add the mustard and vinegar, then slowly stir in the olive oil until you achieve the right consistency. Balance the flavours with freshly ground black pepper, a bit of salt and maybe a little more vinegar.
Arrange your cold smoked salmon, all our packs are interleaved so easy to serve, on your board or platter, mines a slate.  Flake your hot smoked salmon into big wedgey chunks & place a quenelle or big table spoon of rustic pate, so you have the 3 different versions of smoked salmon.  Decant your salsa into a funky little pot and sit on the platter.  Serve with hunks of warm sourdough & share with four.
Hot Smoked Scallops Linguine with Prosecco
A divine dish to make as rather cunningly you only need a little of the prosecco, the rest can be shared as a little apperitif. Serves 2 hungry fishsmokers
1x Hot Smoked Hand Dived Scallops
A good handful of dried linguine, 300/400 gm
2x Banana Shallots finely chopped
1x290ml Double Cream
1x crushed clove of garlic
1x Fresh lemon quartered
1x Large glass of prosecco
Olive oil extra virgin
Handful of fresh parsley or lovage (if lovage, go easy on this as stronger flavour) or chives, chopped
isle of skye sea salt & coarse ground black pepper for seasoning
To Cook
Cook your linguine in large pan of salted boiling water.
Whilst pasta cooking heat a good glug of oil in heavy based saute pan,  gently saute your shallots until translucent golden & soft. A good time to pour a glass of prosecco for you.
Add in your garlic and cook for 2 minutes, add in your prosecco & gently simmer until reduced by half.
Add in cream, squeeze of lemon, gently reduce & season going easy on the salt as pasta salted and hot smoked scallops will add salt also.
Remove roe from scallops and thinly slice scallops, nerves of steel are needed here as to resist the temptation for instant scallopy gratification and to pop one in your mouth. I fail miserably & delicioulsy. Set them aside.
Drain linguine, add in a glug of olive oil,  and your creamy sauce. Gently fold in your sliced scallops, fresh chopped herbs keeping some for finish of choice, check seasoning, squeeze of lemon.
Pile high in warmed pasta bowls, drizzle over a little olive oil, chopped herbs, lemon quarter and serve. Bellissimo!

Far removed from the generic curry powder of many a kedgeree recipe, Sumayya Usmani of My Tamarind Kitchen gave great assistance guiding me towards cumin, coriander and chilli as a simple spice blend that the haddock would accentuate but not drown in. I also added a little turmeric as I like the colour it gives the dish and opted for Kashmiri chilli, again because of the wonderful colour it gives when cooking and the aroma that it fills the kitchen with.
Kedgeree
Ingredients (Serves 2)
1 fillet smoked haddock
350ml boiling water
1 onion (finely chopped)
1 knob butter
150g basmati rice
2.5 teaspoons masala spice blend
2 eggs
Masala spice blend
2 teaspoons cumin seeds
2 teaspoons coriander seeds
1 teaspoon ground Kashmiri chilli
0.5 teaspoon turmeric powder
Note
Traditionally hard boiled eggs are added but I prefer to see the yolk of the poached egg run into the smoky goodness below.
Directions
Grind the cumin and coriander seeds and combine with the chilli and turmeric to make the masala
In a heavy based pan poach the haddock in the boiling water for 5 mins then remove from heat and set aside. Keeping the water in a bowl or jug.
Add the butter to the same pan and saute the onion until soft. Add the masala and rice and stir once. Add the water, put the lid on and bring to a simmer for 10 minutes. Check the rice which should be perfect.
Add back the haddock and stir through, serve with the poached eggs on top.
About
Born and raised in Scotland, I am passionate about the colours, flavours and heritage of my homeland.  My cooking is inspired by the rich food and drink landscape of this beautiful and rugged country, always staying committed to fresh, seasonal and local produce.
My recipes explore the rich natural larder of Scotland, whilst highlighting niche producers who focus on provenance and welfare. My aim is to also bring heritage recipes to life with a contemporary feel, celebrate the cosmopolitan nature of Scottish cuisine and highlight some of the historical effects on the Scottish food landscape. Through my blog I hope to also dispel some of the popular misconceptions of the cuisine of Scotland.
Contact me at [email protected]